For over thirty years, the Richmond Hill Sports Awards have recognized the achievements of local athletes, officials, teams and coaches who have shown athletic excellence in Richmond Hill or contributed to the development of sport in Richmond Hill.
The Richmond Hill Sports Awards are hosted by the Richmond Hill Sports Hall of Fame Committee.
Nominations for the 2019 Sports Awards are now closed.
2018 Sport Champions
The accomplishments of these athletes, teams and coaches were celebrated at the Annual Sports Awards Ceremony on Thursday April 26th, 2018.
Figure Skaters: Jack Dushenski, Iliya Kovler, Amelia Orzel, Maya Gorodnitsky
Kayakers: Brooklyn Wodehouse, Kadan Johnson, Angelina Davidson, Katy Stewart, Sarah Nagy, Lauren Cinq-Mars, Emma Zoldy, Grace Tsaousidis, Maria Ivanov
Baton: Camilla Flach, Sapphire Flach, Jenna Caswell, Kerri Cooper, Mikayla DePiero, Brittaney Francis, Becca Liski, Beth Porter, Stefany Puebla Dominquez, Alessia Spano, Megan Ward, Sydney Ward
Lifesaving: Dennis Cook
Coaches: Inga Zusev (Figure Skating), Steve Merker (Masters Swimming), Diana Porter (Baton), Satyne Ward (Baton)
View photos from the event.
Victoria Chan - Swimming (2017)
Aurora Cotop - Figure Skating (2017)
Emma Cullen - Figure Skating (2017)
Elaine Giantsopoulos - Golf (2017)
Oskar Morawski - Sprint Kayaking (2017)
Zoe Pekos - Cross Country Skiing (2017)
Brian Yang - Badminton (2017)
St. Theresa Lisieux High School Swim Team - Relay (2017)
Alec Guizenbourg- Sports Champion Award (2016)
Cara Pekos- Sports Champion Award (2016)
Conrad Orzel- Sports Champion Award (2016)
David Stewart- Sports Champion Award (2016)
Denis Shapovalov- Sports Champion Award (2016)
Kaelyn Thom- Coach Award (2016)
Mark Gorodnitsky- Sports Champion Award (2016)
Richmond Hill Raiders 2001 OPDL- Sports Champion Award (2016)
Richmond Hill Stars Peewee AA- Sports Champion Award (2016)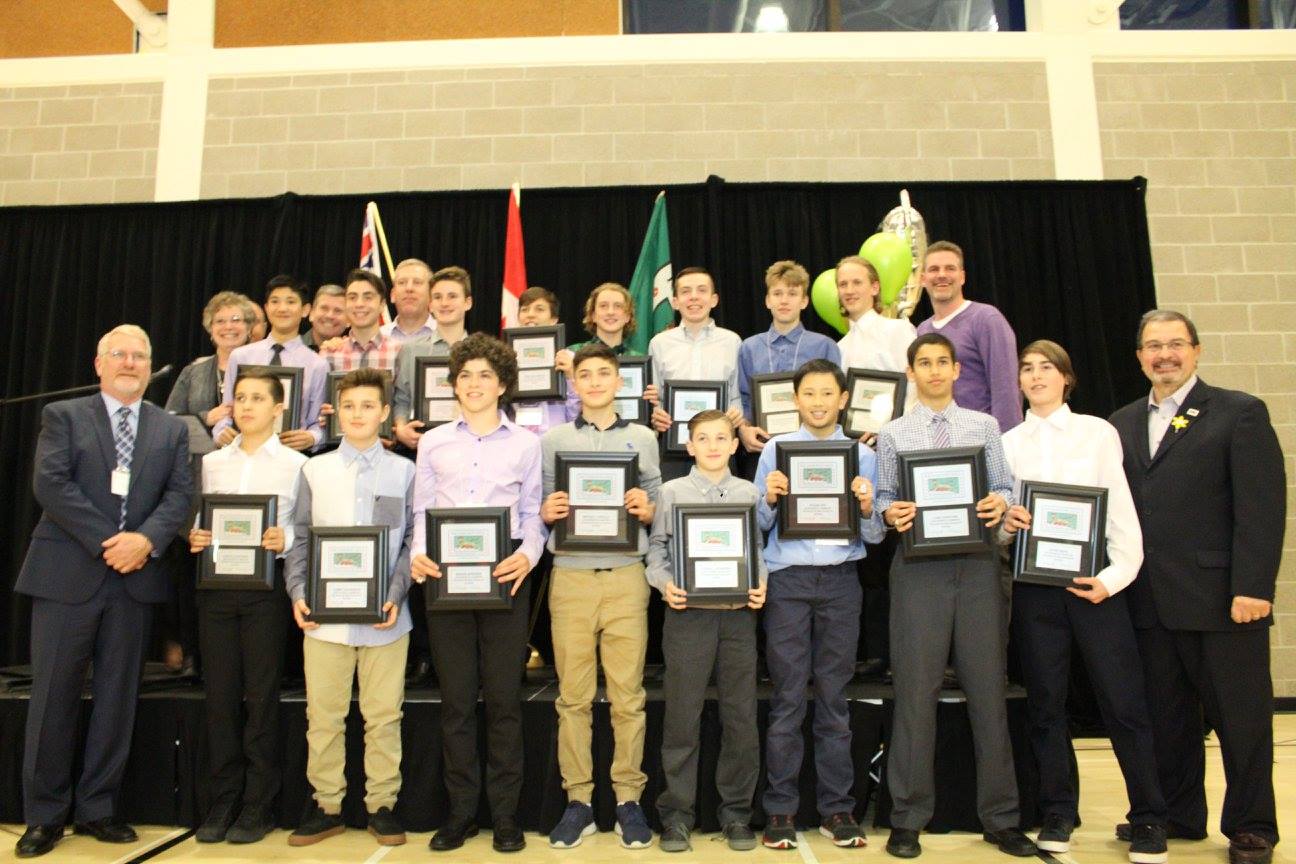 Tessa Shapovalova- Coach Award (2016)