The City of Richmond Hill is committed to providing excellent service and we are proud to serve the people and businesses in our community.
Spotlight on... Richmond Hill Fire and Emergency Services' Training Division
Richmond Hill's firefighters are here to protect the community and it's our Fire and Emergency Services' (RHFES) Training Division that ensure they stay up-to-date on the newest training and techniques that can make a difference in emergency situations.
Training is delivered by Shift Training Instructors who are certified to the National Fire Protection Association's (NFPA) 1041 Instructor standards. They provide training in areas such as fire suppression, medical response and technical rescue. They also make sure firefighters complete annual NFPA requirements so that their skills – including confined space rescue, ice/water rescue, vehicle extrications and so much more – remain at the highest standards.
Additionally, training staff operate the RHFES Training Centre – a modern facility that includes a multi-level training tower for realistic live fire training exercises.
Did you know? RHFES firefighters aren't the only ones who train at this state of the art facility – members of other York Region fire departments, colleges and fire academies have also been training here since the doors opened in 2009. The Centre is rented more than 90 days per year, training over 1800 firefighting students annually.
"As a Firefighter Survival Training Instructor, I am truly proud of the work we do. The survival skills we teach help our firefighters in situations where their own lives may be at risk. This training can make the difference between life and death, so that our firefighters have a better chance of going home to their families at the end of their shift." - Captain Peter Hogan, Richmond Hill Fire and Emergency Services
Putting your tax dollars to work
In 2023, Richmond Hill will keep about $0.26 for every dollar of property taxes we collect from residents. We receive about $0.16 for every dollar of commercial/industrial taxes collected.
The rest of your taxes are sent to your school board and York Region to fund regional services such as public health, social services, children's services, policing, paramedical services and regional roads such as Bayview Avenue, Major Mackenzie Drive and Leslie Street.
This graphic shows how each dollar of property tax that stays in Richmond Hill is divided.
Property taxes pay for a variety of Richmond Hill services residents rely on – fire protection, public libraries, parks and playgrounds, recycling, organics and waste pick-up, snow and windrow removal, local roads, land planning and so much more.
Here's how each dollar the City receives from your property taxes is allocated.
Fire and Emergency Services - 16 cents
Provides fire suppression and medical response, fire prevention and public education, specialty rescue response, training and dispatch services to keep the community safe. In 2022:
Responded to over 5,400 incidents
Communications Centre answered approximately 25,000 calls
6 fire stations plus headquarters and Training centre with multi-level fire training tower, Technical Rescue discipline props, Hazardous Materials, Fire Cause Determination and Auto Extrication training for City firefighters plus renting out to other municipalities and the Ontario Fire College.
Richmond Hill Fire and Emergency Services staff participated in 44,000 hours of training.
Did you know? The City's Fire and Emergency Services Communications Centre dispatches calls for Aurora, Newmarket, East Gwillimbury, Stouffville and Georgina in addition to Richmond Hill. They dispatch to approximately 15,000 incidents each year.
Spotlight on Fire Prevention and Public Education
Richmond Hill Fire and Emergency Services includes a Fire Prevention Division, which enforces the Fire Code and educates the community to help keep our residents safe.

The team is involved with the review and testing of fire protection systems for new construction. They conduct approximately 1,000 Fire Code inspections annually and issue open air fire permits and even deal with hoarding!

The Fire Prevention Division also delivers fire and life safety education through public programming. The Public Education team provides residents with the tools and information they need to stay safe and deal with emergencies. They coordinate fire department special events like fire station tours, school presentations, Fire Prevention Week, Open House, Emergency Preparedness Week and more.

Did you know? The Fire Education Team hosts an annual Junior Firefighter poster contest for grade three students. Winners attend Junior Firefighter Day where they participate in activities like fire truck inspection, hose target, fire prevention escape room and more!

Recently Fire Prevention Public Educator Shanyn Godward won Fire Prevention Employee of the Year from the Ontario Municipal Fire Prevention Officers Association. The annual award recognizes significant contributions made by an individual in the field of fire prevention and public education. Congratulations Shanyn!
Road Maintenance - 4 cents
Maintains roads and sidewalks as well as stormwater ponds to ensure they are in good condition and safe.
Inspect, monitor and repair 1079 km of local roads including road surface, curbs, storm drains, catch basins
Responsible for 16,879 street lights and 800 km of sidewalks
Operates more than 85 stormwater ponds, 650 km of storm sewers and 18,000 catch basins
Did you know? Richmond Hill maintains all sidewalks in the City, but York Region maintains regional roads like Major Mackenzie Drive, Leslie Street, Bathurst Street, Elgin Mills Road, 16th Avenue and portions of Yonge Street.
Spotlight on Potholes
Richmond Hill's Road Maintenance staff keep the City's roads and sidewalks safe and enjoyable for walking, driving, cycling and riding transit.

One of their many responsibilities is identifying and repairing potholes in Richmond Hill local roads. In 2019, the team repaired over 1000 of them.

In 2020, Road Maintenance staff piloted new artificial intelligence technology (called ROVER) to enhance the inspection of road infrastructure. The ROVER technology, housed in a windshield-mounted smartphone camera (pictured at right), uploads photos and details about potholes such as location and severity.

With this technology, staff can identify potholes more easily, which keeps Richmond Hill roads safer through faster repairs.

Richmond Hill received a Founding Member award from Visual Defence Inc., the creator of ROVER technology, recognizing its leadership, innovation and collaboration in using artificial intelligence to help keep roads safer.

"Working in Roads Maintenance, we have pride in the work we do to keep the roads and sidewalks in great condition for the community." - Len Giacalone, Roads Operator III
Ontario Good Roads Association Award
Richmond Hill was honoured to win an Ontario Good Roads Association (OGRA) 2020 John Niedra Better Practices Competition award for our innovative use of artificial intelligence to find and analyze potholes! The awards "showcase the ingenuity of municipal employees and recognize innovations and achievements that improve the efficiency of our municipal transportations through public works, services and operations." Our joint submission with Visual Defence and the City of Markham highlights our success with automatic pothole detection.
Winter Maintenance - 6 cents
Provide winter maintenance, including plowing, salting and anti-icing for roads (excluding Regional roads), sidewalks, City facilities and select trails.
Includes citywide snow windrow clearing service to all local, residential driveways
For each winter event (snowfall):

1079+ kms roads salted/plowed
800 kms sidewalks salted/plowed
43,490 windrows cleared
32 km trails salted/plowed (16.5 km added in 2021)

The City has 141 staff trained for winter events, plus 24 road plows, 35 sidewalk plows and 35 windrow machines.
Did you know? The City measures road temperatures through specially fitted trucks and also through sensors in the road that are monitored remotely.
Spotlight on Road Plowing and Sidewalk Clearing Operations
Did you know? We're celebrating Richmond Hill's 150th anniversary! At right is a photo of Yonge Street, looking north from about Arnold Crescent, in January 1908. Read on for highlights of snow clearing in 2023.
Spotlight on...Road Plowing Operations
Our winter maintenance staff are constantly monitoring weather and road conditions. So when there is the chance of icy conditions or snowfall in Richmond Hill, our road plow operators are ready for it. Day or night – they are the ones going out at all hours in bad weather to help make city streets safe for the rest of us to travel.
Snow plowing operations are initiated once 5+cm of snow has accumulated. Plow operators aim to clear Richmond Hill's 1,100 lane km of roads within 16 hours and wide bends, dead ends and cul-de-sacs within 24 hours after the end of a snowfall. Times may vary due to snowfall amounts, length of storm, time of day etc.
Plow operators plot strategic and efficient routes through the city clearing primary roads first, followed by secondary roads. These routes also keep them hugging the right curb, as plows can't turn left while clearing snow or they would leave a windrow of snow across intersections. That's why they often clear sides of the same road at different times.
Regional roads such as Major Mackenzie Drive and Leslie Street are cleared by York Region plows.
When snow clearing is complete, Operations staff will continue monitoring for areas that need attention.
"There's a sense of accomplishment when we're done clearing the roads after a snow storm. Everyone is tired but we know we've made a difference and the community can travel safely." Anthony Guarrasi, Operator 1 – Roads
Spotlight on...Sidewalk Clearing Operations
Richmond Hill winters come with a lot of snow and cold, but that doesn't stop our sidewalk operations team from getting out in the less than desirable weather when it hits. They provide a critical service in keeping our community safe and mobile during the winter months and are always ready to contend with long hours and harsh winter weather.
Working as a team together with the roads operations crews, they ensure our 800+ km of sidewalks and select multi-use pathways are clear of ice and snow, so that everyone can get to where they need to, safely.
Through significant training, the sidewalk operations team has the skill and knowledge required to operate the City's 31 sidewalk plows, aiming to de-ice and/or carefully clear sidewalks and multi-use pathways within 14 hours of a snowfall. Staff clear snow and apply a mixture of sand/salt to promote traction and reduce ice and snow buildup. Factors such as freezing and thawing of ice and snow, as well as blowing snow create challenges often requiring multiple passes. And the job doesn't end there – once the snow is cleared, sidewalk operations staff continuously perform routine ice spot checks and apply salt when required.
"As a sidewalk plow operator, I am proud to be part of a huge team effort in keeping our sidewalks safe so that everyone in our community can continue to use them during the winter." Robert Bowden, Sidewalk Plow Operator
Waste Collection - 5 cents
Administer garbage, recycling, organics, yard waste and large appliance collection to over 55,000 households and 14,650 apartments/condominiums. The City strives to work with the community to reduce the generation of solid waste and create a more sustainable environment. In 2022, the City:
collected 55,820 tonnes of waste (all waste streams)
diverted 37,390 tonnes of waste from landfill (recycling, organics, yard waste), representing 67% of materials collected
began implementation of its Single Use Plastics Reduction Policy focused on reducing the use of these items at City facilities and events.
Access Richmond Hill - 1 cent
Provide assistance for general inquiries, responds to questions or concerns regarding City programs and services, including an online portal to report a problem with a service and translation services. In 2020:
Transitioned to a fully virtual environment for phone and email service while City buildings remain closed
Extended service to 7 days per week for the initial months of the pandemic to address significant increases in public inquiries due to COVID-19
Assisted over 79,350 residents over the phone
Responded to over 15,940 emails and 4,330 web inquiries
Spotlight on Access Richmond Hill Services
The Access Richmond Hill contact centre serves as a single point entry for customer service inquiries and resident concerns about City programs and services. In addition to phone, email and in-person (currently unavailable due to COVID-19) services, they also manage requests through our online service portal, where you can notify the City about missed garbage collection or if a streetlight is out, and can help you schedule specialized services such as large appliance collection.
Throughout the pandemic, the staff in Access Richmond Hill continued to support the community by transitioning to a virtual environment. In 2020, they delivered accessible and consistent service to 79,350 residents over the phone and responded to over 15,940 emails and 4,330 web inquiries.
"The advisors on this team can take over 100 calls each on a busy day! Whether it's a question about tax or water bills or an inquiry about recreation programs, I am most proud when I am solving their concerns and providing the information they need to enjoy living in Richmond Hill." – Lisa Rotman, ARH Advisor
Did you know? The advisors in Access Richmond Hill also offer translation assistance for residents who need services in languages other than English.
Recreation and Events - 11 cents
Help to bring the community together through local and citywide events, plus recreation programming across the city. The team operates 20 Recreation and Culture facilities, ranging from Community Centres, Pools, Arenas and Fitness Centres to historical buildings such as the David Dunlap Observatory. In 2022:
offered 4,300 Recreation and Culture programs and served over 37,500 program participants.
welcomed 282,000 participants in 13,000 drop-in programs, totalling of 23,300 hours.
hosted 8 major cultural events, and received over 65,500 visitors.
Hosted over 160 shows at the Richmond Hill Centre for the Performing Arts
Spotlight on Lifeguards, Swim Instructors and Aquatic Attendants
Swimming is both a popular recreation activity and an important life skill. The City operates six pools and a variety of swimming programs for all ages – but we couldn't do it without our amazing aquatic staff.

Richmond Hill Lifeguards, Swim Instructors, and Attendants are critical to making sure our residents have a safe, fun time in the pool. These staff require multiple certifications and as many as 150 hours of specialized training, so they have the knowledge and skills to prevent and respond to aquatic emergencies.

Every year, our Swim Instructors also help hundreds of children and adults learn to swim, following the Lifesaving Society's Swim for Life and Lifesaving programs.

"I am proud to work as a Lifeguard for the City of Richmond Hill. As lifeguards we help keep people safe while also getting to know many wonderful residents and working with an amazing team."
- Masoumeh "Massi" Daghighi, City of Richmond Hill Lifeguard


Did you know? We're hiring for lifeguards and aquatics staff! Many people who began with the City of Richmond Hill in recreation and aquatics roles have gone on to wonderful careers in the organization, including in Human Resources, Communications, Parks, Fire Services, Recreation Management, Bylaws and the Theatre. This could be your first step on a successful career path! Visit Jobs.RichmondHill.ca today to apply.
Buildings (Arenas, Pools, etc.) - 6 cents
Provide a wide variety of facilities for community use including unique options such as The Wave Pool, Eyer Homestead Ropes Challenge and the Richmond Green Sports Dome.
Operate 11 community centres, with pools, fitness centres and meeting space
Offer 5 arenas, including the new NHL-sized ice pad at Ed Sackfield Arena
Present wide variety of shows at Richmond Hill Centre for the Performing Arts
Spotlight on Arena Facility Operations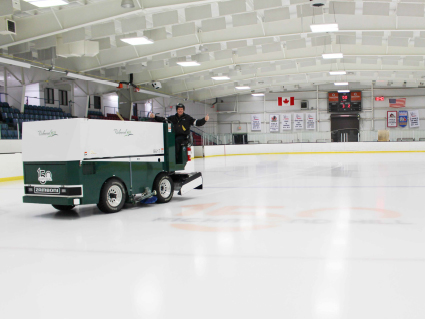 Richmond Hill's arena facility operators and lead hands take pride in the work they do to keep the ice at our five arenas in tip-top shape so that skaters can enjoy a fun and safe, skating environment. They take care of everything – from making sure the lights are on for those early morning skates to operating the complex refrigeration systems that keep our rinks cooled.
Spraying water to create one thin layer of ice at a time, our certified arena facility staff are trained to carefully transform a chilled concrete pad into a skating rink, building it up until it becomes perfect for skating. In between layers, they are also the ones painting logos and lines onto the ice required for ice sports like hockey, ringette and figure skating. Did you know… ice is only 1 ½ - 1 ¾ inches thick once complete!
Once ice is ready for skating, our staff ensure ice quality is maintained by monitoring temperatures every two hours, and drilling holes in the ice on a weekly basis to measure thickness. They also operate ice resurfacers (sometimes known as Zambonis) in between skates.
The job doesn't end there. Our staff are on hand during skating programs to assist patrons and ensure our change rooms and the facilities are kept in excellent condition. Without them, a fun and safe skating experience in Richmond Hill would not be possible.
"Correctly maintaining ice is no easy task. Knowledge, experience, and pride contribute to the safe, quality ice we provide in Richmond Hill. This, in turn, leads to people returning again and again to enjoy our skating facilities." – Randy Milford, Building Maintenance Repair Person
Public Library - 5 cents
Richmond Hill Public Library provides in-person and digital services for the entire community through four locations, as well as access to learning apps, eBooks and more through our catalogue and website.
Served the community through 1.1 million in-person visits, 1.4 million electronic visits, 709,116 social media visits (2019)
59,093 active cardholders (2019)
Loaned 1.2 million print items, 197,369 audio visual items and 678,217 electronic materials (2019)
Offered 3,993 programs on a variety of subject areas and interests, which were attended by over 70,000 adults, teens and children (2019)
Spotlight on...Richmond Hill Public Library Collections
Richmond Hill Public Library's Collections team are responsible for developing the Library's diverse assortment of lendable materials. They blend their knowledge of current events and trending interests with their expertise in literacy and research to build a library collection that inspires our community.

Richmond Hill Public Library has over 500,000 physical items across its four locations and adds approximately 50,000 items annually. The Library's digital branch consists of over 44,000 books and eAudiobooks for loan on OverDrive. The Collections team selects and purchases materials in a variety of formats, including items in over 15 languages, materials for people learning English as a Second Language (ESL) and large print text for persons with visual impairments.

The Collections team also purchase selections of video games, DVDs, STEAM (Science, Technology, Engineering, Art and Math) Kits, Ontario Parks passes, and various apps including on-demand creative tutorials (Creativebug), digital magazines and newspapers (PressReader) and language learning (Mango Languages).

Collections staff work alongside other library staff to curate topical book displays in branches and online book lists too. They also weed out worn or outdated items and help to digitize materials that highlight the history of Richmond Hill. Staff regularly attend publisher's meetings to learn about the books that are soon to be released that might be of interest to the Richmond Hill community.

"One of my favourite parts of my job is getting to hear from customers about the books and materials they want to see in the Library. Anyone can recommend a book to us via the Suggest A Purchase form on our website and, as an avid reader myself, I'm always excited to hear about new books and authors that I may not have come across before." Beth Zabloski, Acting Manager, Collections.

Did you know? Almost 10,000 more eBooks were checked out in 2020 during COVID-19 closures compared to the same time in 2019.
Parks and Trails - 5 cents
Provide parks, trails and open spaces for Richmond Hill residents to get outside for fresh air and fun.
Maintain 147 parks, 150 kms of trails and 544 hectares of natural areas including 32 km of trails maintained (salted/plowed) through the winter
Offer the Richmond Green skate trail, a 250 metre outdoor, looped trail
Maintained trails and parks for safe, physically-distanced use during the pandemic
Offered 15 safe and fun splash pads to beat the heat, including the 2020 opening of the new splash pad at David Hamilton Park
Partnered with local schools, businesses and community groups to plant 8,800 trees and shrubs and restore 5 hectares of land in parks and natural areas through the Community Stewardship Program
Distributed 915 trees and shrubs, 2,350 wildflowers, 350 rain barrels and 300 backyard composters purchased by residents for their property at an affordable cost through the annual Healthy Yards Program
Did you know? Richmond Hill parks and trails are beautiful places to see the fall colours? Visit 6 Instagram-worthy Places to See Fall Colours in Richmond Hill to learn more.
Spotlight on...Splash Pad Operations
A lot goes into keeping Richmond Hill's 15 splash pads safe and operational for everyone to enjoy!

Throughout the summer, members of the City's splash pad crew visit the pads at least once a day to inspect the water-play areas, making sure they are clean and free of sharp objects, and perform any maintenance required.

Our larger splash pads at Lake Wilcox and Rouge Crest use a complex water recirculation system to conserve water. These splash pads include a three-part filtration system using chlorine, UV and sand filters that must be carefully monitored and maintained throughout the day by certified pool operators. They clean out filters, test the water every two hours and watch for factors, such as sunscreen and heavy rains, that can affect the water's chemical balance. Staff ensure that all our splash pads meet York Region and provincial health and safety standards.

Also as part of our water conservation efforts, some of our smaller splash pads collect runoff, which staff then use to water the turf on our sports fields!

"Our team takes a lot of pride in the work we do. The joy on the kids' faces is why we are committed to keeping the water safe, healthy and flowing." - Matthew Lucchetta, Lead Hand, Splash Pads and Playgrounds
Spotlight on Urban Forestry
The Urban Forestry team takes care of the trees on City property including along streets, in parks and open spaces. The annual tree care program consists of planting, pruning, removals, stumping, insect control, storm damage and more. The team also responds to more than 2,000 requests for maintenance on municipal trees each year. You can report a public tree that needs attention through our Access Richmond Hill portal.
In 2021, the Urban Forestry team also managed a re-emergence of spongy moth, an insect that feeds on the leaves of trees. Long-term effects can be reduced or prevented through management techniques, such as removing egg masses from street and park trees.
"I have been planting and maintaining the city trees for over 30 years. It is nice to see the trees we have planted develop over time to form mature and healthy tree lined streets. It is a testament to the hard work and dedication the Urban Forestry crews demonstrate day in and day out." – Mark Davies, Supervisor, Urban Forestry
Did you know? Richmond Hill staff and contractors plant roughly 1,500 trees on public property every year! These efforts contributed to Richmond Hill being named a Tree City of the World, an international recognition for our leadership in maintaining and growing our urban forest.
Administration and Other Services - 19 cents
Key services like human resources, communicating City business to residents, Mayor and Council Office expenses, procurement, accounting and property tax administration all fall within Administration and Other Services. In 2020:
Planning and Development - 6 cents
Richmond Hill is in a unique position, poised for considerable residential and commercial growth now and well into the future. Planning and development ensure new buildings and land use are safe and appropriate to our growing City. In 2020:
Introduced online building permit and tree permit applications to modernize operations and improve customer service
Launched an Enterprise Asset Management (EAM) System to effectively manage the maintenance of the City's 50,000 traditional infrastructure assets, 45,000 street trees and nearly 700 hectares of natural forest
Implemented Phase 1 of the Planning and Regulatory Management (PRM) System to facilitate operational efficiency and delivery of e-services
Began work to update Richmond Hill's Official Plan
Spotlight on Building Permits
The Building Permits team is responsible for issuing formal permission (permits) from Richmond Hill to legally start a building project. The City's building officials, including building engineers and plans examiners, work together to ensure construction projects meet minimum requirements outlined in the Building Code Act (BCA), Ontario Building Code (OBC) standards and local zoning by-laws. These are the rules that keep our homes, offices, schools and shopping centres safe for the community.

It's a very detailed process. When staff review permit plans and drawings, they look at room sizes, energy efficiency, ceiling heights, fire protection requirements and many other rules that apply to construction projects. In 2020, 1,557 total building permits were issued with an estimated construction value of almost $420 million.

Online building permit submissions launched in 2020. Staff are able to review plans and issue permits digitally making the process much more efficient for both City staff and applicants.

"Our Building Division team strives to enhance the quality of community life by respecting the safety of buildings with reference to health, life safety, accessibility and structural sufficiency. We are committed to providing exceptional public service in a cost-effective, fair and consistent manner." - Abbas Akhavan, P.Eng., Building Engineer, Building Division

Did you know? The reason houses have minimal windows and doors on the side that faces the neighbour is not for privacy, but for fire safety! Fewer openings (called unprotected openings) means less chance for a fire to jump from one home to the next.
Asset Renewal and Capital Programs - 7 cents
This small portion of your property tax bill goes toward capital projects including the repair or replacement of existing infrastructure, such as roof replacements and other repairs at various City facilities, parks revitalization (playgrounds, artificial turf replacement, etc.) and repairs and reconstruction of local roads (not including regional roads such as Bayview Avenue and Major Mackenzie Drive). In 2020:
Celebrated the opening of two modernized community facilities: Ed Sackfield Arena expansion featuring an NHL-sized ice rink, fitness centre and the City's first indoor walking track and David Hamilton Park including a new splash pad
Launched the Lake Wilcox Boardwalk, a suspended 130 metre long and 3 metre wide crescent shaped pedestrian walkway constructed in Lake Wilcox that connects to the existing promenade
Grand opening of the state-of-the-art Oak Ridges Library, a two-storey, 19,000 sq ft facility with meeting rooms, a children's program room, computer room, Maker Space room, expanded library collection and dedicated areas for children, tweens, teens and adults
Spotlight on Infrastructure Delivery - Watermain Replacement
Richmond Hill's Infrastructure Delivery Services team is always looking for innovative ways to maintain and replace aging infrastructure. This includes the 640 km of watermain in the City.
Last year, they began the replacement of 1.6 km of watermain on Major Mackenzie Drive, from Yonge Street to Bathurst Street.
The team opted to use a minimal-impact, trenchless method of installing underground utilities called horizontal directional drilling. It required less digging and allowed the watermain to be installed underneath existing infrastructure, trees and creeks.
Horizontal directional drilling is typically twice as fast as traditional construction methods, reducing the repairs required on the road and minimizing traffic disruption.
"I'm proud we can use innovative technology to ensure that the watermain continues to deliver safe, drinking water to our residents while minimizing disruptions to residents and motorists. In fact, this length of watermain brings water to the hospital and we are pleased to report that work was completed without any interruption of services to the hospital." - Kasia Piskorz, Project Manager
Spotlight on Corporate Asset Management
Richmond Hill has approximately 300,000 assets such as roads, sidewalks, recreational facilities, watermains, stormwater management ponds and sewers. Corporate Asset Management uses data collected from teams across the City to track, analyze and report on our assets. When City assets are maintained and updated at the optimal time, it can extend their life for the community to enjoy and save money too.

The City's newly-approved Asset Management Plan outlines the different approaches to maintain assets in a safe and cost-effective way, to ensure our community stays safe and services are maintained.

To help staff manage the City's infrastructure across many service areas, the Corporate Asset Management and Information Technology teams developed the Enterprise Asset Management System. This web-based system helps staff use data on City assets and forecast the investment needed to maintain them for up to 100 years.

"The Corporate Asset Management team's focus is to help Richmond Hill maximize the value of its assets over time. We take great pride in getting the most from the City's assets and protecting tax dollars." - Andrew Nichols, Project Manager Corporate Asset Management

Did you know? Richmond Hill's main infrastructure assets are valued at $7.2 billion.
Information Technology - 6 cents
In the modern world, it's crucial for the City to stay up-to-date on information technology, including cyber security to protect City assets and the private information of residents.
By-law Enforcement - 3 cents
The Community Standards division upholds Richmond Hill's by-laws to ensure the whole community can enjoy our City. In 2022 the team implemented an updated Park Use By-law and also:
Received 7950 By-law Services Requests (complaints and inquiries)
Confirmed 1451 By-law violations
Received 770 Parking Services Requests (complaints and inquiries), and
Issued 10,207 Temporary Parking Permits, 14,991 Lake Wilcox Resident Permits and 25,221 Parking Tickets
Did you know? Richmond Hill contracts its animal services to the City of Vaughan, which is more efficient for both Cities.
Spotlight on...By-law Education
Community Standards are the rules set out in Richmond Hill's By-laws that help preserve harmony in our community. These by-laws help protect the environment and ensure minimum standards are met when it comes to keeping our neighbourhoods safe and looking great.&
The By-law Education and Enforcement team promotes voluntary compliance of the rules which supports fairness and balance amongst neighbours and neighbourhoods. The team of supervisors, by-law and licensing enforcement officers and customer service representatives do this by raising awareness through RichmondHill.ca, social media and interacting with residents (in person, by telephone at 905-771-0198 or email).
Did you know?
Property Standards By-laws help make sure that residents are doing their part to maintain their properties, keeping them free of unusable machinery, garbage and debris.
The Grass and Weeds By-law sets a year-round height limit of 20cm for grass and weeds.
Richmond Hill has lawn watering restrictions in the summer. Odd-numbered homes can water on odd numbered days from midnight - 6 a.m. and 7-10 p.m. for a maximum of four hours. Even-numbered homes can do the same on even-numbered days.
In 2021, the Community Standards team received 5293 service requests (reported complaints) and 2626 inquiries from members of the public.
"As Customer Service Representatives in By-law Education, we take pride in helping our community understand the by-laws and the importance of the rules that help ensure everyone can enjoy life in Richmond Hill." - Thalia Siannas and Carmela Corradino, Customer Service Representatives, Community Standards
Water Services - Funded Through Water Billing
The City of Richmond Hill is committed to providing excellent service and we are proud to serve the people and businesses in our community.
Spotlight on...Water Services

Richmond Hill's water distribution network consists of 630 km of watermains, pipes and valves that bring clean water into homes and businesses. Our drinking water staff are certified by the Ministry of the Environment, Conservation and Parks, and take considerable care in providing a safe and reliable supply of drinking water for everyone in our community.
Richmond Hill Certified operators perform daily tests and obtain microbiological samples for analysis five days a week to ensure our water is safe for human consumption and meets all water quality standards. In 2021, they performed more than 4,300 tests and samples on our water supply.
In addition to water sampling and testing, certified operators, perform a variety of maintenance activities on watermains to keep them functioning.
"As a Water Wastewater Operator for the City of Richmond Hill, making sure our community has access to safe drinking water is my top priority. I am proud that everyone in Richmond Hill can rely on the water team."
- Rob Goring, Water Wastewater Operator I